Water, Mold, Fire & Smoke Restoration in Ethel
United Fire and Water provides a 24/7 emergency services hotline that is open 365 days a year in Ethel and throughout our service area in Louisiana. We have IICRC-certified technicians who are equipped with state-of-the-art equipment to meet your needs and exceed your expectations for all types of restoration & remediation services. To learn more, call 225-401-6568.
Some of Our Most Popular Services in Ethel Include
Water Damage
If you have water damage in and need water extraction & remediation, choose United Fire & Water. We are Louisiana's most trusted (and best reviewed) disaster restoration company for more than 20 years.
Mold Remediation
Molds and fungi are found everywhere inside and outside, but it's hard to when it reaches dangerous levels in your home. Don't let mold ruin your health! Let the professionals from United remove any mold from your home.
Fire & Smoke Damage
Whether smoke damage occurred as a result of a cooking masterpiece gone awry or faulty electrical work, removing smoke particulates from walls, furniture, garments and air ducts is essential in eliminating odor — once and for all.
Additional Services Offered by United Fire & Water in Ethel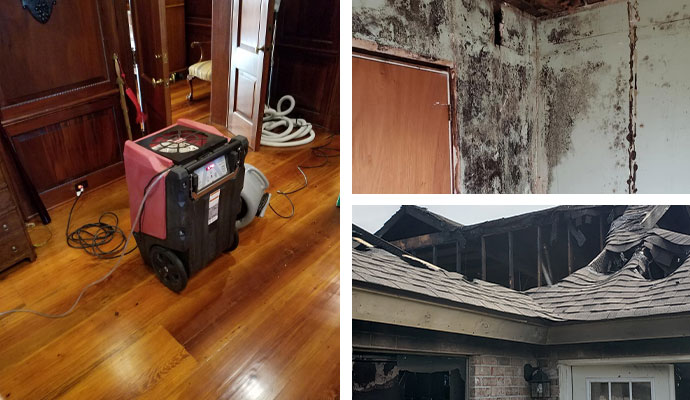 Trust Us for All of Your Restoration Needs in Ethel
When you encounter slab leaks, burst & frozen pipes, flood damage , or any other issue at your home or office that requires water or fire damage restoration, the company to contact in Ethel and other cities throughout our Louisiana Gulf Coast service area is United Fire and Water. Our emergency crews stand ready to help on a 24/7/365 basis at your residential or commercial property Ethel and our teams of IICRC-certified technicians have years of experience, expertise, and top-notch equipment at their disposal. To learn more, give us a call at 225-401-6568 or click here to book our services today in Ethel and its surrounding cities.
More About Ethel
Ethel is a community located in East Feliciana Parish and is placed next to the Louisiana Highway. Its convenient location next to this highway offers the locals a convenient road to get to and from work or to other attractions in the area. Ethel United Methodist Church and Ethel Baptist Church are two staples of the town, offering regular services for the area to enjoy every week. With the area's natural landscape comes the multiple ponds and lakes in the area, which can be subject to severe flooding from strong rainstorms. United Fire and Water Restoration is prepared for any disaster, from fries to mold to floods caused by smaller lakes and rivers.