Mold Decontamination across Baton Rouge, LA
Mold growth in your home or business can be a serious problem. Not only does it affect indoor air quality and cause unpleasant odors, but it can also damage your property and pose health risks to you and your family or employees. You need a professional mold decontamination service as soon as you notice mold growth on your property.
As a part of mold remediation services at United Fire & Water, our mold decontamination involves completely sanitizing or decontaminating surfaces after they have been cleaned of mold. If you live in Baton Rouge, Covington, Hammond, and throughout our Gulf Coast service areas, you can count on our professional mold decontamination services to help you eliminate mold from your property. Our team is trained to identify and eliminate mold growth, no matter how severe it may be.
To banish mold from your property, make sure to call United Fire & Water at 225-401-6568 or request an appointment.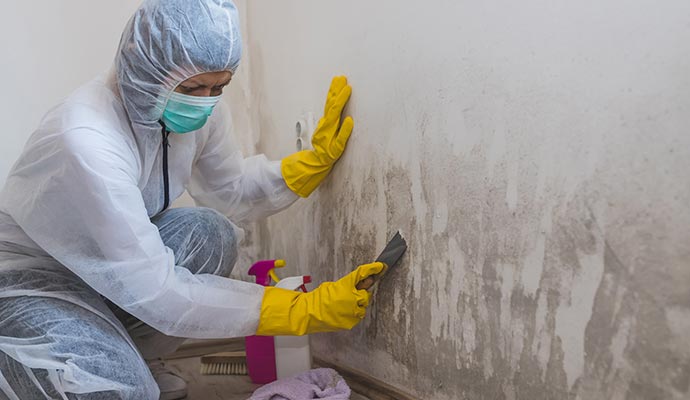 Our Complete Mold Remediation Process
Mold remediation is the process of removing mold from a building or property and preventing its further growth. Here's a general overview of our mold remediation process:
Assessment and Inspection: The first step is to identify the extent of the mold problem and determine the source of the moisture that is causing the mold to grow. This is usually done through a visual inspection and may involve taking air or surface samples to identify the type of mold present.
Decontamination: The next step is to isolate the contaminated area from the rest of the building to prevent the spread of mold spores. We'll use advanced techniques to remove the mold and disinfect the affected area.
Removal: Our mold remediation team will then remove all visible mold and contaminated materials, such as drywall, insulation, and carpeting. This may involve the use of specialized equipment such as HEPA vacuums, air scrubbers, and antimicrobial agents to clean and disinfect affected surfaces.
Drying and Dehumidification: Once all visible mold has been removed, our next step is to dry out the affected area and reduce the humidity to prevent further mold growth. This may involve the use of fans, dehumidifiers, and other drying equipment.
Testing: After the remediation process is complete, the area will be retested to ensure that all mold has been removed and the air quality is safe. Once the area passes the mold testing, the containment measures can be removed and the property can be reoccupied.
Contact United Fire & Water and Decontaminate Your Property Today!
Do not lose time waiting if you are concerned about mold problems on your property in Denham Springs, Sorrento, Lafayette, and across Louisiana. In this case, you can choose to interact with United Fire & Water. We are available 24/7 at 225-401-6568 to serve you.