Deodorization Services for Fire Damage in Baton Rouge, LA
Following a fire, the smell of smoke penetrates your entire home or office, impacting items that were not damaged by the fire. That is because the source of the odor is persistent ash and soot inside the fibers of your clothes, draperies, upholstered furniture, and more. You need deodorization services from United Fire & Water to return a healthy and pleasant indoor environment to your property.
United offers top-notch deodorization services for your fire-damaged property. We'll locate the sources of the odor and, utilizing our tried-and-true methods, eradicate lingering smoke odors. Our technicians are IICRC-certified and experienced with a full range of fire and smoke damage restoration services. We serve customers in Baton Rouge, Denham Springs, and other cities within our Louisiana service area. Call us at 225-401-6568 to learn more or click here to schedule some deodorization services today!
Why Do You Need Professionals for Deodorization Services?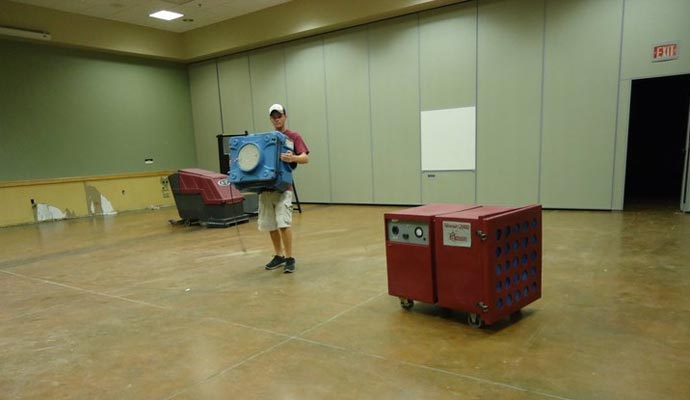 It's critical to hire professionals to deodorize your residence and restore its contents. Doing anything less invites the possibility of a temporary fix that will fade over time. Unlike over-the-counter options, professional fire restoration firms use professional-grade smoke odor deodorizers to target soot and smoke and permanently remove it from your property. Professional deodorization services use state-of-the-art, odor-eliminating materials and equipment. They use methods and ozone treatments to restore odor-free, clean, and pre-loss conditions to your home or commercial facility. United Fire & Water is the company you should trust for deodorization service for your fire-damaged property.
Why Choose United Fire & Water to Deodorize Your Property in Baton Rouge?
100% Satisfaction GUARANTEED
24 Hour Emergency Service
30 Min average response time
Best rated restoration contractor in Southern Louisiana
Family-owned
IICRC certified technicians
Fully licensed and insured
We deal directly with your insurance
No one does a better job of fire damage deodorization services for customers in Baton Rouge and Denham Springs than the IICRC-certified cleaning & restoration experts at United Fire & Water. Call us at 225-401-6568 to learn more about our deodorization services or click here to schedule a time for one of our technicians to head to your property and start deodorizing the place today!