Roof Damage from A Storm in Louisiana
United Fire & Water provides the most efficient restoration services for roofs damaged from a storm in Louisiana and nearby areas.
A normal storm can cause havoc on your roof; but the worse fact is that you can't do anything to prevent it. We know how much you adore your roof as it's one of the most beautiful aspects of any home. A dangerous storm can damage and break most of the shingles in your roof. Even the best shingles such as Asphalt Roofing Shingles can easily be broken.
We provide the best repair service of your roof damage caused by a storm at an extremely affordable pricing. We promise to make your rooftop look as good as new and give you a lesser chance of thinking to get a new roof installation.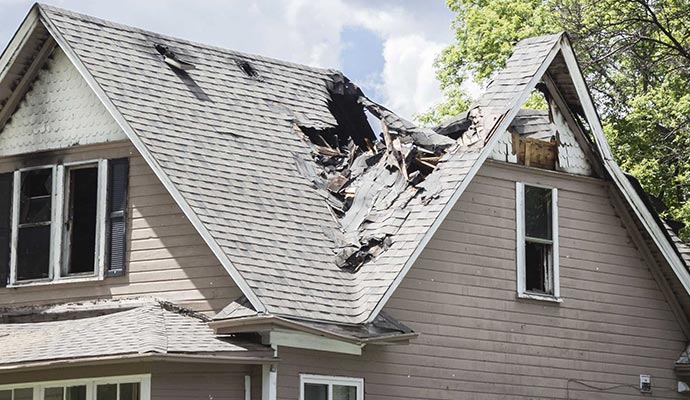 Local Roofing Contractor for your Home
Damages by a storm to your roof can be highly stressful. And it unfortunately is an all-too-common practice for out-of-town roofing companies to flood the area, to make a quick buck off vulnerable homeowners after the storm has passed. This is so not the case with United Fire & Water.
We have been providing roof repair services for many years now and we proudly enjoy a great success rate. Serving the people of the Gold Coast region and all Southern Louisiana has been our prime goal. When you partner with us, we consider you part of the family and we stop at nothing to ensure your roofing system is brought back up to its pre-disaster state. Our storm damage services include:
Emergency Response
Free Inspection
Free Estimation
Repair or Newly Restoration
Trust United Fire & Water for Restoration Services
As a state-certified & licensed mold remediation company in Louisiana, United Fire & Water is an expert in the field of water & fire damage restoration. Our emergency crews are ready to respond on a 24/7/365 basis and can be on-site at your property in as little as 1 hour for locations throughout Southern Louisiana.
Whether it is a natural disaster, a broken pipe, or a devastating fire, our certified restoration experts provide comprehensive disaster recovery solutions to restore any property to its pre-loss condition.
100% satisfaction guaranteed
24-hrs emergency service
Best rated restoration contractor
Family-owned
IICRC certified
Fully licensed and insured
We directly deal with your insurance company
To know more about our services in Mandeville, New Orleans, Cameron, Point Coupee, East Baton Rouge, and other parts of our Gold Coast service area, or to learn about our pre-planned emergency response for your home or business – contact us today of call us at 225-401-6568!