Rising Water Restoration in Baton Rouge & Denham Springs
When your property suffers from any kind of water damage, the impact can be severe. The higher the water level rises, the more damage your home or office will suffer. Because water quickly absorbs itself into the walls, flooring, and other structural materials of your property, you need to make sure to schedule some rising water restoration services ASAP. At United Fire & Water, rising water removal is one of our storm damage restoration services, along with flood damage restoration, hurricane damage restoration, and more for our residential & commercial customers along the Louisiana Gulf Coast.
Whether you need our help in Baton Rouge, Denham Springs, Lafayette, Hammond, Zachary, or any of dozens of other cities that we serve, our IICRC-certified technicians stand ready to roll on a 24/7/365 basis and can be on-site within 30 minutes. For more information, dial 225-401-6568 or click here to schedule a service appointment ASAP with one of our water removal & restoration experts!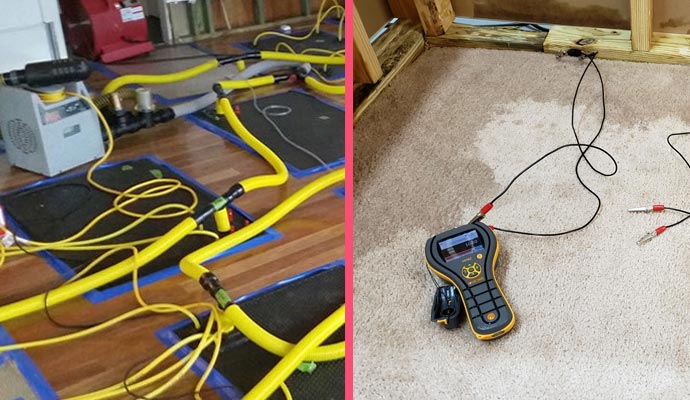 What Can Water Damage Do to Your Property in Louisiana?
Here are some common issues related to water damage at your home or office in Baton Rouge or Denham Springs:
Damage to the Structure: If you don't address water damage as soon as possible, it might lead to structural damage to your home. Structural damage interferes with the overall stability & safety of your house.
Mold: Water damage causes your property to become damp and increases the potential for mold growth. Various types of mold can be harmful to your house and cause structural damage to your home or office.
Health Issues: If mold develops in your home, it can create health problems for residents that include respiratory ailments, rashes, skin problems, watery eyes, headaches, and more.
Choose United for Rising Water Restoration Solutions in Baton Rouge & Denham Springs
Among the myriad of reasons to choose United for rising water restoration services in Louisiana, some of the best include:
100% customer satisfaction guarantee
24/7/365 Emergency Services
30-minute average response time
Top-rated restoration contractor in Southern Louisiana
Family-owned & operated company
IICRC-certified technicians
Fully licensed & insured company
Certified to work with all major insurance providers
Technicians deal directly with your insurance adjuster
Quick, quality restoration services
At United Fire & Water, our services include storm damage restoration, water damage restoration, and more for our homeowners and business owners in Baton Rouge, Denham Springs, and other cities in Louisiana. When you need our help, click here to schedule an appointment ASAP or call us at 225-401-6568 to learn more about our products and services.