Going Green: Thyme-Based Disinfectants in Baton Rouge
In today's world, homeowners and business owners are concerned about the environment. That applies to the type of disinfectants used in mold removal services by our cleaning experts at United Fire & Water. For years, the mold remediation industry relied on bleach or other harsh, hydrogen-peroxide-based chemicals to remove mold and disinfect contaminated areas. These days, that has changed in a big way with our thyme-based disinfectants that are eco-friendly.
These disinfectants are part of our wide array of mold services, including mold inspection, mold testing, and mold removal. For more than two decades, our IICRC-certified technicians have cleaned up mold-related issues for both residential and commercial customers in Baton Rouge, Denham Springs, Zachary, Shenandoah, St. Tammany, and other cities throughout our Gulf Coast service area in Louisiana. When you need our help, call 225-401-6568 or click here to schedule some thyme-based disinfectant cleaning services for a "green clean" at your home or office.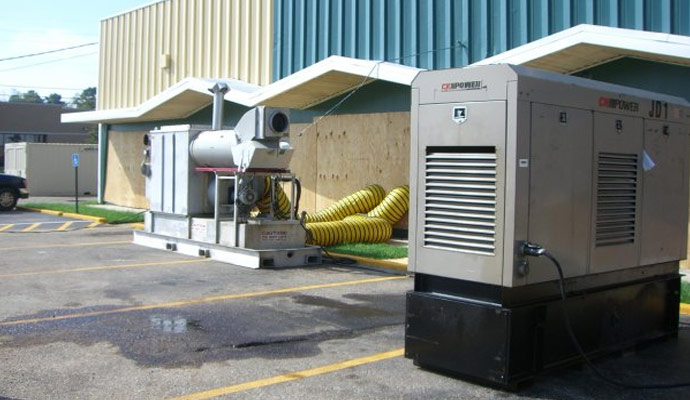 A Plant Immune System
Fortunately, several leading disinfectant manufacturers have looked to Mother Nature for an eco-friendly cleaning solution. This approach has produced Benefect®, the disinfectant our crews use the most. Benefect® is a thyme-based product that is eco-friendly but wipes out mold spores. In many ways, Benefect® is a "plant immune system" in a bottle.
We've used Benefect® products for years, both on job sites and in our own homes. We trust it. But don't just take our word for it. You have got the right, and the responsibility, to know what types of chemicals and solutions are brought into your home or office.
More Information about Our "Green Cleaning" Products at United
We are sold on the value of eco-friendly Benefect® products as the best way to provide a greener clean at your property in Louisiana. This thyme-based disinfectant knocks out mold but is eco-friendly for the environment. Check to links below to learn more about the Benefect® products we use:
Benefect Botanical Disinfectant Homeowner Handout
Benefect Botanical Disinfectant MSDS (Material Safety Data Sheet – English)
Benefect Multi-Purpose Cleaner MSDS
Count on United for Green Cleaning Solutions in Baton Rouge & Houma
As citizens around the world grow more protective about our environment on a daily basis, our cleaning professionals at United Fire & Water have done likewise with our thyme-based disinfectants that are an essential, eco-friendly part of our mold removal services. The Benefect® products we use are safe for you, your family, and your pets. But they are tough on mold. To learn more about how you can get a "green cleaning" in Zachary, Shenandoah, St. Tammany, and other cities in Louisiana, give us a call at 225-401-6568 or click here to schedule your eco-friendly disinfectant cleaning services today!