Hail Damage Restoration in Baton Rouge & Denham Springs
Hail damage can be a dangerous offshoot of a thunderstorm. When temperatures are right, raindrops that become damaging icy hailstones can wreak havoc on your home or business in a matter of minutes. During a hailstorm, these icy raindrops can severely damage your home, office, car, and other possessions.
United Fire & Water is the company to call when you need hail damage restoration services at your property in Baton Rouge, Denham Springs, Lafayette, and other cities that we serve along the Louisiana Gulf Coast. Our emergency experts respond to hail and storm damage 24 hours a day, 7 days a week, offering you peace of mind during a tough time. We will do everything we can to make the restoration run as smoothly as possible. To learn more about our services, please call us at 225-401-6568. When you are ready to schedule an appointment for services at your property, click here.
Common Property Damages Caused by Hail in Lafayette & New Iberia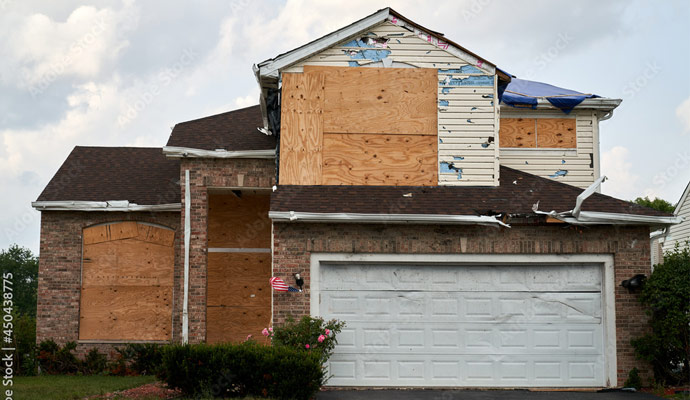 Roof Damage: Because your roof is your home's first line of defense, it takes the bulk of the damage during a hailstorm. Roof leaks caused by missing or misplaced shingles are the most common type of damage.
Siding Damage: Hailstones can damage your siding and cause leaks, which can lead to structural problems. If you don't have siding, hail can also damage the paint, exposing the unprotected wood beneath.
Window Damage: Broken glass from window panes, skylights, and doors are common types of property damage caused by large hailstones.
Water Damage: Shingles and windows may be lost during a storm, resulting in flooding & water damage to your home.
Let United Fire & Water Restore Your Hail-Damaged Property in Baton Rouge
To get the best hail damage restoration services in cities along the Louisiana Gulf Coast area, be sure to call United at 225-401-6568 or click here to make a reservation with our restoration experts ASAP in Baton Rouge, Denham Springs, or Lafayette. When you choose United, the benefits include:
100% Satisfaction Guaranteed
24 Hour Emergency Service
30 Min Avg Response Time
Best Rated Restoration Contractor
IICRC Certified Technicians
Fully Licensed and Insured
We Deal Directly With Your Insurance Provider