Floor Water Damage Restoration in Baton Rouge & Zachary, LA
Severe weather can cause extensive water damage at your place of living. Water damage can be especially disastrous for wooden floors. If water remains on a wooden floor for a lengthy period of time, it will be absorbed into the floor and eventually reach the deeper layers. If you don't take the necessary steps immediately, your floor will require replacement in the long run.
For more than 20 years, United Fire & Water has been proving the most effective and best floor water damage restoration services across Louisiana. Homeowners and business owners from Baton Rouge, Walker, Denham Springs, and surrounding areas can rest easy knowing that we will return the damaged floor to its pre-damage condition using our advanced technique and equipment. We completely extract water, dry the area, evaluate the level of damage, and then restore the damaged floor. Whenever you need our assistance with floor water damage or any water-related issue, simply dial 225-401-6568 or click here for an online reservation.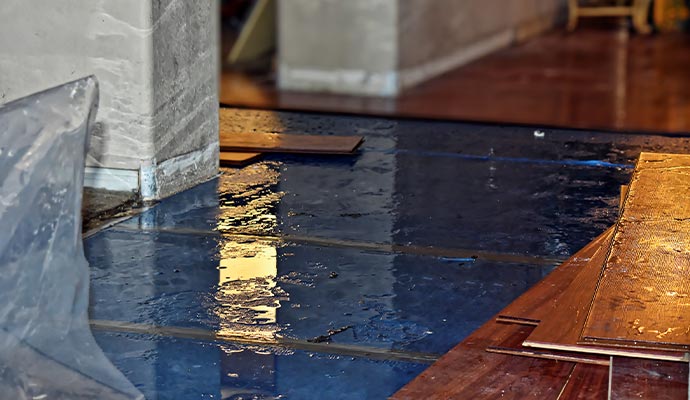 Signs You Have Floor Water Damage at Your Home
It is crucial to check the floor water damage in the surrounding areas. You should watch out for the following signs-
Warping: Warping is primarily caused by humidity. As humidity changes, flooring frequently stretches, compresses, and separates.
Discolor: Mold and mildew tend to grow in the water-damaged area. They can cause discoloration in the flow which is an obvious sign of floor water damage.
Crowning: Moisture can cause crowning in the hardwood. Individual boards typically have a wider midsection. Floor crown or crack when they are wet.
Buckling: The subflooring beneath the flooring splits when it buckles. Your floor may start to crumble off and then separate at the joints.
Trust United Fire & Water for Floor Damage Restoration Services in Louisiana
At United Fire & Water, our IICRC-certified technicians have decades of experience and the necessary equipment to provide you with the best floor water damage restoration service possible. We will directly deal with the insurance company, so you don't have to take the hassle of claiming insurance for water damage. In addition to floor water damage restoration, we also offer restoration services for flood damage, sewage damage, structural damage, and many more. For getting the water-damaged floors to their pre-loss state, call at 225-401-6568 or contact us online for more information.