Fire Damage Restoration in Baton Rouge & Denham Springs
Whether your fire & smoke damage occurred as a result of a cooking malfunction or a faulty electrical installation, removing smoke particulates from walls, furniture, garments, and air ducts is essential in eliminating odor — once and for all. That is why our IICRC-certified technicians at United Fire & Water offer a comprehensive array of fire damage restoration services, including board-up services, fire & smoke cleanup, reconstruction, air duct cleaning, and more.
We serve both residential and commercial customers in Baton Rouge, Denham Springs, Lafayette, Hammond, Zachary, and other cities throughout our Gulf Coast service area in Louisiana. Give us a call today at 225-401-6568 or click here to schedule a service appointment ASAP with one of our certified technicians! For more than two decades, our IICRC-certified crews have set the industry standard for fire damage restoration, water removal, mold remediation, and more for our customers in Louisiana.
Common Causes of Smoke Damage at Your Home or Office
Kitchen Fire: A stovetop fire while cooking in your kitchen or office break room can cause huge amounts of black smoke that damages the surrounding walls and other areas. When caught early, these fires tend to be small. But they can quickly cause the kitchen area to smell like smoke. When abated properly, this odor can be eliminated within a few days.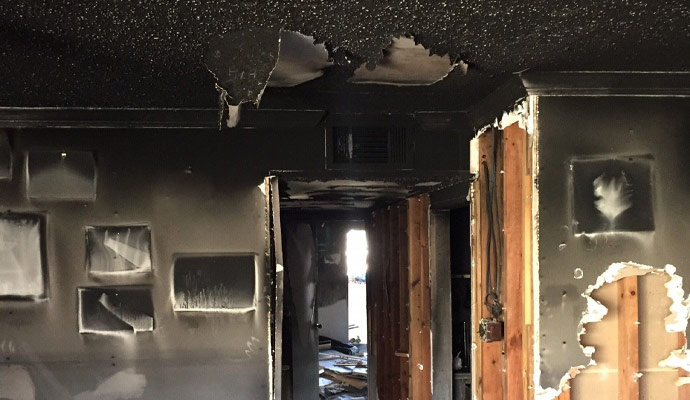 Most cooking-related fires involve burnt meat, and we will use a cleaning agent that removes the protein smell from walls, ceilings, countertops, and floors. We'll then set up Air Filtration Devices (AFDs) outfitted with charcoal-based filters that bond with smoke particulates to remove 100% of the smoke particulates. It may take multiple days, but the odor will soon be gone.
Electrical Fire: Bad wiring, old fixtures, outdated appliances, and damaged electrical outlets are leading causes of electrical fires. These fires tend to produce a smell of burnt plastic. These fires do not produce smoke mixed with proteins, but the abatement and cleaning process is similar. AFDs work to purify the air while technicians wipe down surfaces with what's called a "chem-sponge". These sponges help lift smoke particulates off surfaces.
The Good News: When treated by the proven professionals from United Fire & Water, a smoke-damaged structure can be completely restored because of our fire damage restoration experts. While this is a labor-intensive process, most insurance policies cover our services 100%. Give us a call. We're here to help.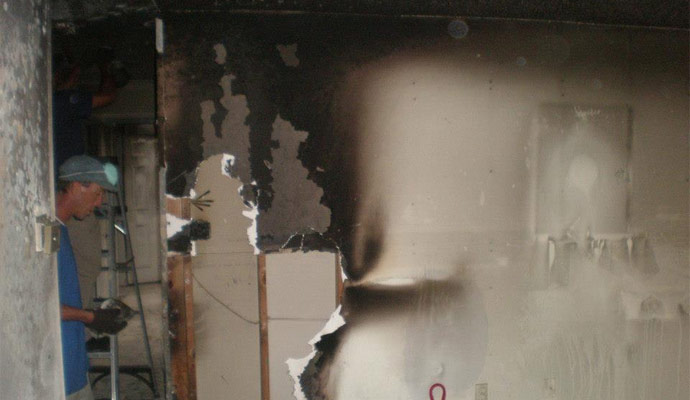 Things to Do in the Event of a Fire
Is the fire out? If not, immediately evacuate the home or office and call 911. Then reach out to United at 225-401-6568.
When the fire has been completely extinguished, turn off your heating/cooling system immediately to prevent the smoke from being sucked into the air ducts and pumped into other rooms.
Open doors and windows to allow fresh air is to circulate. If you have portable fans, set them by open doors or windows, letting them blow the smoke-filled air outside. Also, turn on your stove's exhaust fan.
Trust Us to Meet Your Fire Damage Restoration Needs in Baton Rouge, Houma, & Acadia
For the best available fire damage restoration services and other restoration-related issues, the company to contact is United Fire & Water if you are a homeowner or business owner in Acadia, Houma, Shenandoah, St. Tammany, Baton Rouge, and other cities throughout our Louisiana service area. To learn more dial 225-401-6568 or click here to make a service appointment with one of our IICRC-certified technicians today.