Airport Damage Restoration in New Orleans & Baton Rouge, LA
Airports aren't generally vulnerable to storm, fire, flood, wind or water damage, but anything is possible. Repairs, demolition and general restoration as a result of age or wear also require airports to undergo the occasional facelift.
For airport damage restoration across southern Louisiana, the professionals at United Fire & Water will have your airport bustling again. Maintaining an airport, particularly one with high traffic, isn't easy. Passengers prefer a clean, comfortable environment in your terminal. Even minor construction or repairs can significantly impact passengers, airline employees, and your overall operation.
See your airport damage or repairs completed efficiently and effectively with United Fire & Water taking the lead. Fire, water, plumbing, storm or other damage can cause health or safety issues. No matter the size or scope of the project, United Fire & Water has the equipment and expertise for thorough airport damage restoration. Call us at 225-401-6568 or contact us online for assistance in Baton Rouge, Denham Springs, Livingston, Prairieville, Covington and across our LA service area.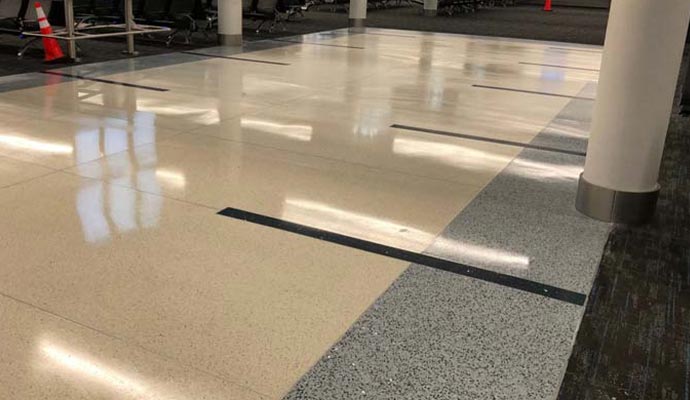 Airport Damage Restoration By United
The restoration professionals at United Fire & Water know airports are frequented daily for vacations or business travel. No matter the reason, schedules must be kept, and interruptions for airport damage restoration can be frustrating and inconvenient.
Restroom or dining area closures, walkway detours, or major remodeling can all throw an airport into disarray and potential flight delays. Fire or water damage can't sit while an airport should be fully operational. United Fire & Water is ready to help minimize inconvenience, as well as keep your airport secure, safe, and moving forward. We're dedicated to delivering the best results and total satisfaction for your airport damage restoration. 
Trust United Fire & Water For Airport Damage Restoration in New Orleans
At United Fire & Water, our commitment to professionalism extends to every job we accept. Our advanced equipment, methods and expertise provide efficient, effective restoration and repair. Our technicians have passed extensive background checks, received extensive training and certification, and are ready to provide the highest quality customer service and support. We also provide restoration for airport damage, assisted living facilities, schools, office buildings, and more. Call us at 225-401-6568 or contact us online to learn more and arrange a consultation.