Water Removal Services for Schools in Baton Rouge, LA
School buildings are typically large, with lots of hallways, staircases, and classrooms. When a flood happens within the building, lots of water damage can occur quickly. When a severe water intrusion occurs on your campus, United Fire & Water is the best choice for quick water removal, restoration, & recovery. Our IICRC-certified crews are experienced water damage restoration specialists who understand all aspects of commercial restoration services for customers in Acadia, Houma, Baton Rouge, and other cities within our service area.
For years, customers in Shenandoah, St. Tammany, and other cities that we serve have benefited from our wide array of water cleanup & removal services at schools, government buildings, industrial buildings, and more. When you need our help at United Fire & Water, call us at 225-401-6568 for additional information or click here to schedule an appointment now with one of our water removal experts!
How Does Water Damage Impact Schools in Louisiana?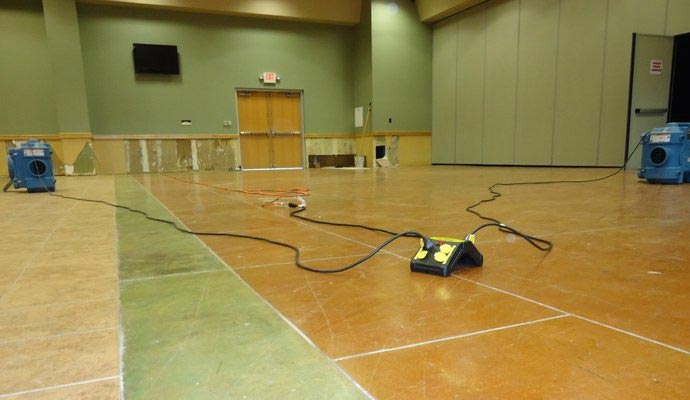 Water damage on a school campus can lead to the following issues:
Property & Material Damage: It can erode soil, weaken cement structures, cause wood to rot, and corrode metals, causing damage to the school grounds, structures, construction materials like tiles, plaster, and drywall, utility systems, and even ducting.
Potential Health Hazards: A water-damaged school building that is not adequately cleaned and dried after the occurrence will retain toxins and mold growths that create health hazards to students and employees.
School Closures: Water-damaged schools will be forced to close for cleanup, repair, and reconstruction. The impacted students & staffers will suffer major disruption to their daily routines while restoration efforts are ongoing.
Trust Us for Water Removal Service at Schools in Baton Rouge & Denham Springs
You can trust United Fire & Water company as the best water removal service provider for your schools in the area of Baton Rouge & Denham Springs. We offer 100% customer satisfaction & we directly deal with your insurance provider. Our IICRC-certified professionals will respond within 30 minutes to restore your school building to its pre-loss condition. To learn more, call us today at 225-401-6568 or dial that number for 24/7 emergency services in Shenandoah, St. Tammany, Baton Rouge, Acadia, or Houma.