Strong Wind Damage Restoration Services in Baton Rouge
United Fire & Water provides the most efficient restoration services for damages caused by a strong wind in Baton Rouge & around. We will tackle the entire strong wind damage restoration process, including cleanup, contents pack-out and mitigation, insurance claim assistance, repairs, and recovery. We utilize superior materials, equipment, and skill to restore or rebuild storm damage.
Damage from strong winds such as fallen trees, debris, roof or structural damage and other disaster fallout are traumatic occurrences. Emergency cleanup, securing shelter, debris removal and more make for a long list of priorities during strong wind damage restoration. You need a professional restoration partner on whom you can depend. Count on us!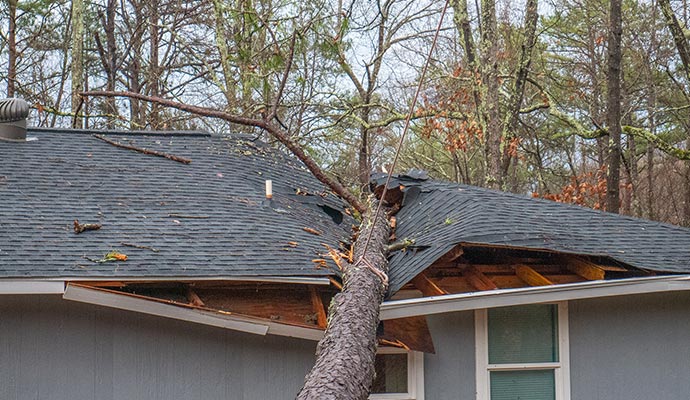 Storm Restoration by United Fire & Water
We specialize in strong wind damage repair for commercial, industrial, multifamily, and institutional structures, and is equipped to manage any size disaster. Throughout the restoration of your home or business property, we are committed to assuring your pleasure.
When strong wind damage happens, one of our representatives will perform a complete assessment to establish the extent of the storm damage and guarantee that your property's repair is managed appropriately at every step of the process. Our qualified emergency specialists take prompt action to protect your property from future weather damage and exposure.
Trust United Fire & Water for Restoration Services
100% satisfaction guaranteed
24-hrs emergency service
Best rated restoration contractor
Family-owned
IICRC certified
Fully licensed and insured
We directly deal with your insurance company
As a state-certified & licensed mold remediation company in Louisiana, United Fire & Water is an expert in the field of water & fire damage restoration. Our emergency crews are ready to respond on a 24/7/365 basis and can be on-site at your property in as little as 1 hour for locations throughout Southern Louisiana.
Whether it is a natural disaster, a broken pipe, or a devastating fire, our certified restoration experts provide comprehensive disaster recovery solutions to restore any property to its pre-loss condition.
To know more about our services in Dutch Town, French Settlement, Rosedale, Hammond, St Martin, and other parts of our Gold Coast service area, or to learn about our pre-planned emergency response for your home or business – contact us today of call us at 225-401-6568!