COVID-19 Disinfection in Denham Springs & Baton Rouge
United Fire & Water offers professional COVID-19 disinfection services and infection control services for businesses affected by the worldwide pandemic. Our thorough cleaning and disinfecting process address all non-porous surfaces in your building, creating a healthier environment for business owners in Lafayette, Hammond, Zachary, Baton Rouge, Denham Springs, and dozens of other cities within our service area.
In addition to COVID-19 disinfection services, our IICRC-certified technicians offer cleaning and restoration services that will help you rebound ASAP from rising water, flood damage, hurricane damage, and more. We serve both residential & commercial customers throughout the Louisiana Gulf Coast area. Give us a call today at 225-401-6568 or click here to schedule a service appointment ASAP with one of our water removal & restoration experts!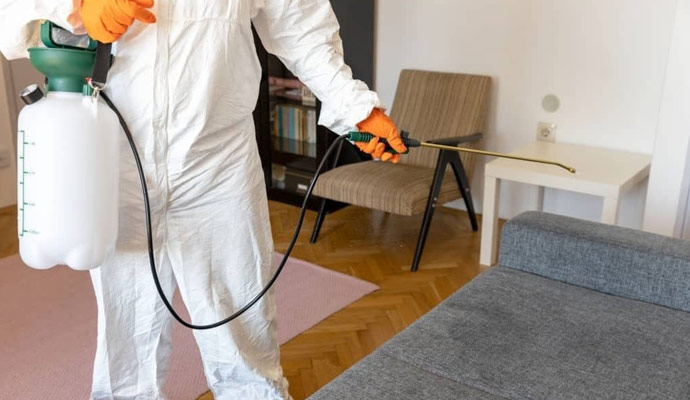 Our Two-Step Cleaning Protocol by United Fire & Water
Clean all non-porous horizontal surfaces (excluding the floor) and all touchpoints including doorknobs, toilets, faucets, light switches, etc. with a wet process and disinfectant solution.
Application of ProKure V to all horizontal surfaces, including the floor, and all vertical surfaces including cabinets, showers, doors, and more.
ProKure V (EPA Reg# 87508-3-89334) is listed by the EPA to use against SARS-CoV-2, the virus responsible for causing COVID-19. Our crews at United Fire & Water have been using ProKure V for sewage damage cleanup, mold remediation, smoke damage projects, and deodorization services with great success since 2017.
What is ICRA & How Can it Help My Healthcare Business?
The acronym "ICRA" stands for Infection Control Risk Assessment. ICRA is intended to be a process to identify and correspondingly mitigate potential impacts to patients and healthcare services from construction and maintenance scopes of work. Originally intended to address infectious material concerns pertaining to molds, bacteria, and, to a lesser extent, viruses, ICRA now encompasses potential risks to operational systems, services, patient satisfaction, and staff/HR concerns. A comprehensive ICRA can proactively address and mitigate identified hazards to facilitate clean & healthy environments at healthcare facilities.
Our Qualifications & Certifications at United Fire & Water in Louisiana
United Fire & Water is certified in many areas of Infection Control Risk Assessment (ICRA). Our credentials include: