Mold Testing in Baton Rouge & Denham Springs
When Should Mold Testing Be Performed?
In general, the EPA does not recommend sampling a home or office for mold unless an occupant or employee is symptomatic. When sampling is necessary, it should be performed by a mold testing professional like the IICRC-certified technicians employed by United Fire & Water. Our mold testing experts have specific training and real-life experience in designing mold-sampling protocols, sampling methods, and the interpretation of findings to understand when a property needs mold remediation services in Baton Rouge, Denham Springs, Zachary, St. Tammany, and other cities within our service area in Louisiana.
Sampling or mold testing should only be conducted to answer a pertinent question: examples include "What is the spore concentration in the air?" "or, "Is there a particular species of fungi present in the building?" Performing mold testing is a key piece of United's wide array of mold services, which also include mold inspection and mold removal. To learn more, call today at 225-401-6568 or click here to schedule an appointment ASAP.
Mold Testing Services Offered by United Fire & Water
This is the most common form of mold testing to assess the level of mold. A sampling of the indoor areas in question and outdoor air is conducted and the results are compared. If the samples taken indoors are at lower levels than were found outside – this is an indication of acceptable air quality. If the mold levels indoors are higher than what was found outdoors – this is an indication that there is a problem in the property and further investigation may be required.
These are common methods of sampling for surface mold where we use swabs/tape to lift a sample off surfaces in question.
Removing items like carpet and drywall and submitting those items to the lab is another method of sampling for mold in a property.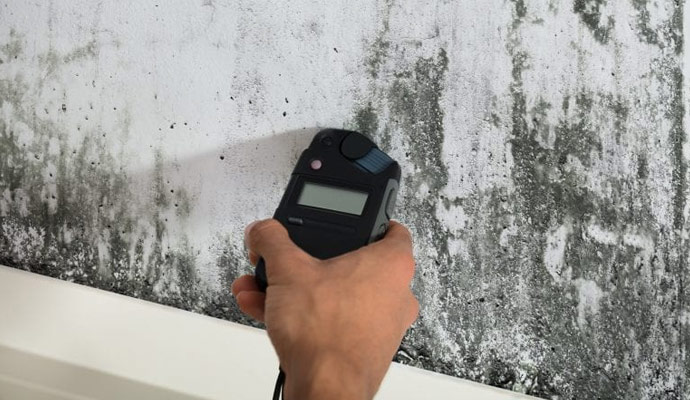 How United Inspections Are Performed
Mold testing by United Fire & Water Damage includes a comprehensive inspection of the property. We will use many tools, including infrared cameras, hammer probes, hydro sensors, and penetrating and non-penetrating moisture meters.
We also have the ability to create a scope of work and estimated costs for any required remediation and/or reconstruction. Estimates are created using Xactimate estimating software – this is the same software that the vast majority of insurance companies use to estimate property losses.
Rely on Us for Proper Mold Testing Analysis in Zachary & Acadia
When you choose United Fire & Water for your mold testing services within our Louisiana service area, you can rest assured that the sampling and mold testing analysis will follow the recommendations of OSHA, the EPA, the National Institute for Occupational Safety and Health (NIOSH) and the American Industrial Hygiene Association (AIHA). When you need our help, call 225-401-6568 or click here to schedule an appointment with one of our mold testing experts ASAP.