Baton Rouge Duct Cleaning
If your home flooded in East Baton Rouge, Ascension or Livingston Parish, you have hopefully completed your demo, professional mold remediation and you may even have drywall up. If you haven't considered having your air ducts cleaned, you should. United Fire and Water is your Baton Rouge Duct Cleaning expert!
Why Duct Cleaning?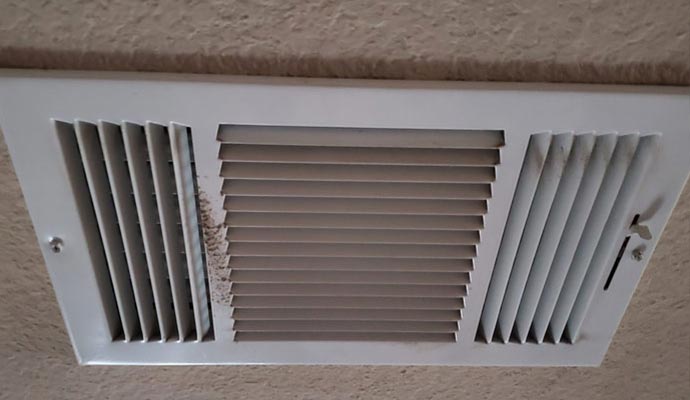 If your home flooded, contaminants in the form of mold, drywall, insulation and bacteria from Category 3 water invading your home were everywhere inside your house. You removed the visual remnants by demoing, professional mold remediation and cleaning…but what about the mold and other contaminants that cycled through your air ducts? Typical duct cleaning is recommended anywhere from every 5-15 years, depending on a large variety of factors (smoking, allergies, pets, etc.) However, after a catastrophic event like a flood, duct cleaning is recommended for every home that received water damage. United Fire and Water Damage is recommending our clients wait until the very last step for duct cleaning. This is because hanging drywall is a dirty business! With all the dust and debris flying, if you have your ducts cleaned prior to reconstruction, you will need to have them cleaned again afterward. If you've had professional mold remediation and aren't living in the home during reconstruction, then there is no danger in waiting until completion.
Baton Rouge Duct Cleaning
United Fire and Water Damage uses an advanced duct cleaning system called "Ram Air." Here's some info from the Ram Air website regarding why it's so superior to traditional air duct cleaning methods that use a brush.
Blasting debris from ducts with highly compressed air- a method endorsed by the National Air Duct Cleaner's Association, has been lab & field tested to do a better job of removing dust and debris from duct walls and won't damage any type of ducting. Our 1" diameter Teflon Blasting Ball will fit deep into and slip around the corners of ducts with incredible ease. The powerful blast of air reaches into corrugations of flex ducting that brushes can miss, doing a more thorough job of cleaning.
Additionally, the Ram Air Duct Cleaning system collects all debris into a clear box, which allows the client to see what we cleaned from their system!
For More Information on Baton Rouge Duct Cleaning, Call United Fire and Water At 225-401-6568.