Fire Damage
When a fire happens, once the firefighters leave it may seem like the danger has passed and the home is safe from further destruction. Without professionals to help clean the smoke damage, the building will never return to normal. While the principles behind fire restoration are fairly simple, it requires a lot of experience and manpower to perform actual restoration properly, and this means that it shouldn't be attempted by a homeowner on his or her own. Further damage from smoke can occur if the home isn't treated properly and quickly, by a licensed expert.
United Fire and Water Damage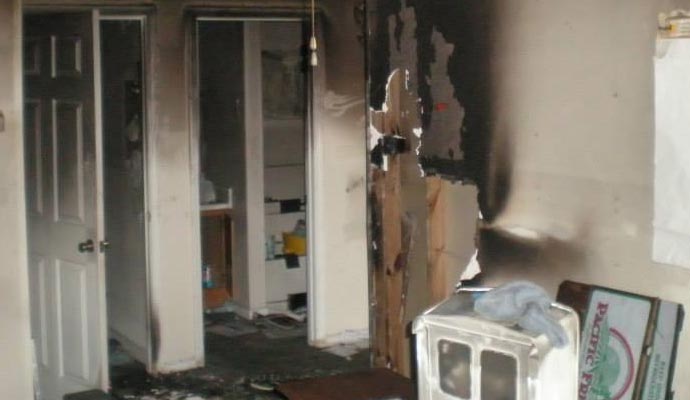 United Fire and Water Damage follows the IICRC standards for both fire and water damage . The IICRC is recognized internationally as a knowledgeable industry voice and resource. Here's what the IICRC has to say about Fire Damage:
"Ash and smoke, if left unhindered, will cause extensive corrosion, etching and discoloration, not to mention lingering powerful odors. Professionals that clean fire and smoke damage can stop this before it becomes a major problem, assuming they are contacted soon enough. There are many companies out there that advertise their ability to restore areas affected by fire, but only those with proper training and certification should be considered. The Institute of Inspection Cleaning and Restoration Certification (IICRC) is the main oversight agency in this industry. The IICRC requires its registrants to take extensive coursework before earning their certification. This is a symbol of excellence, and those that uphold the standards that have been set can be contacted through the IICRC.

If a professional isn't hired to clean smoke and fire damage, the costs for restoration will skyrocket after a few weeks. Metals may need to be replaced, carpet will permanently discolor and glass may be severely etched, which will necessitate replacement. It will also become apparent that the odors caused by the disaster may still be present and intense enough to be distracting. Because ash is acidic, the longer it takes to hire experts, the more destruction it will cause. "
Why Would You Trust Your Home or Business Restoration to Anybody Else?
We have been in business for over 18 years. We follow IICRC standards for all forms of restoration, be it water damage, fire damage or mold remediation. We can safely restore your home back to normal…probably even better than it was before!
We serve the areas surrounding the following cities in Louisiana.
Baker
Baton Rouge
Central
Covington
Denham Springs
Geismar
Gonzales
Hammond
Lafayette
Livingston
LaPlace
Mandeville
New Orleans
Prairieville
Port Allen
Walker
Call the #1 Rated Restoration Company in Louisiana! – 225-401-6568
United Fire & Water are your Louisiana Restoration Experts.