Found Mold?
If you had "mold spray" or even what someone was calling "remediation" done by a non-licensed mold contractor, such as your church group, a pest control company, or friendly neighbor, and now you have MOLD, we can help! Even if you've started or finished rebuilding, we can come in and perform some Indoor Air Quality Testing (IAQ) to give you a better or idea of what is going on in your home or business.
Why a Professional?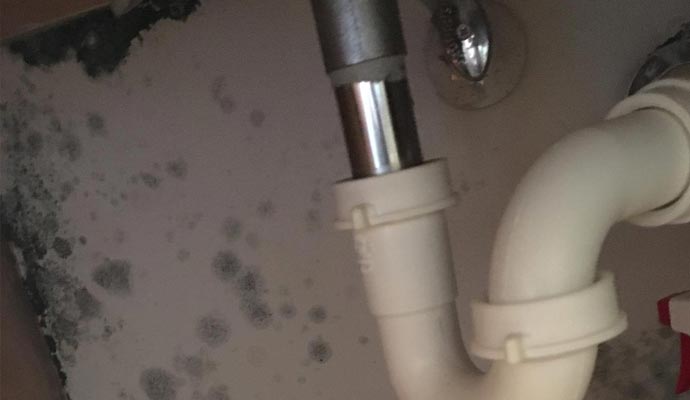 Mold remediation is a very technical, specific task. Simply spraying "mold spray" on top of your mold will just leave you with wet mold! You MUST remove it in order to prevent future growth. We are experts! We have a detailed FOUR STEP process to clean, remove your mold, spray for future prevention, and then dry out to a safe moisture level below 15%.
Mold Remediation
Our remediation follows the following steps:
Professional, truck mounted cleaning and washing of all walls, studs, floors, etc. in the building to wash and remove all mold.
Extraction of the moldy water from the building using a truck mounted system.
Application of anti-microbial spray to prevent future mold growth.
Dehumidifiers and air-movers left in the building for at least 72 hours to dry out building below 15% moisture levels. Detailed moisture log included for you and your contractor's peace of mind for rebuilding.
After Remediation
Once remediation is complete, moisture levels have been documented and are shown to be at safe levels to rebuild, we are suggesting that you get your reconstruction complete, and then have your ducts cleaned. They went through a LOT with demolition, dry out, and remediation, and the general conditions in affected areas.
At that point, you might have IAQ samples pulled as additional documentation should you ever decide to rent or sell your property.
United Fire and Water
As a LA state Licensed mold contractor with over 18 years of experience, we didn't just pop up out of the blue because of the flood. We have been here, and we WILL be here. 225-401-6568