Frozen Pipes
Well, it's that time of year again! Temperatures are below freezing and if you aren't following proper steps, you may find yourself with a busted pipe! There are some steps you can take to help protect your home from the water damage that may occur from frozen pipes.
How to Protect Your Home from Frozen Pipes
This week will bring some freezing temperatures across Southern Lousiana! To properly prepare for these below average temps, here are a few tips to follow.
Open one faucet on each side of your home to a steady drip or trickle. Make sure your sink has an OVERFLOW
If your home has a gas water heater, run cold water in one bathroom and hot water in the other.
If your home is all electric, run cold water only.
Make sure to set your heater to at least 67 degrees.
My Pipes Froze Anyway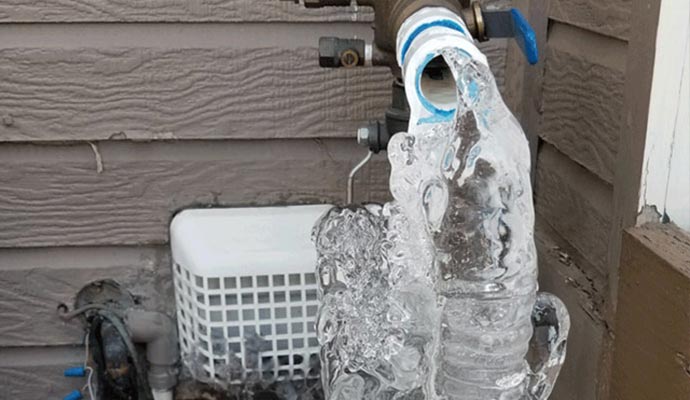 If your search reveals that your pipes are frozen but none have ruptured, you have two choices:
Call a plumber to help thaw your frozen pipes. This is a good idea if you don't think you can safely thaw the pipes yourself, you don't know where the frozen pipes are or you can't access the frozen area. United Fire and Water Damage has recommendations for plumbers!
Attempt to thaw the frozen pipes yourself. Be aware this option can be dangerous if not done correctly.
If you attempt to thaw the frozen pipes yourself, keep the following tips in mind:
Keep your faucet open. Water and steam will be created during the thawing process, and your pipes need an opening.
Apply heat to the section of the pipe that is frozen. This can be done by wrapping an electronic heating pad around the pipe, scouring the area with a hair dryer or both. If you lack either of these items, using towels soaked in hot water will help as well. Never use a blowtorch, propane or kerosene heaters, a charcoal stove or any other open flame device to thaw your frozen pipes. You should also avoid using a space heater unless you are sure the area is clear of any flammable material.
Continue applying heat until water flow returns to normal. Once you have successfully thawed the pipe, turn on other faucets in your home to check for any more frozen water pipes.
Do You Have Water Damage from a Broken Pipe?
Call United Fire and Water DKI at 225-401-6568 now and we can offer immediate help!