Keep Calm By Understanding The Water Damage Cleanup Way
Water damage is never something that a person wants to deal with. Nothing is more heart wrenching than seeing your beloved items or North Shore home ruined by water. While you may think that there is not a better solution than to panic and give up, there are a few things that you can do! The very first thing, and perhaps the most important, is to call the professionals! Specialists like those at United Fire And Water, in the North Shore area, are trained to take care of these damages and clean up the mess. As you contact them, they may ask a few questions so that they know exactly what it is they need to bring to take care of your situation. Here are a few examples of questions they may ask: 
Where do you think the water is coming from?
What is the age of the property? (Anything before 1978 must be tested for lead and asbestos.)
What can you see is affected? (what rooms/areas, affected materials – drywall, flooring, etc., contents)
Is there an extensive amount of content in the affected areas?
How many stories/floors are there?
Is the property located on a foundation or crawlspace?
If a roof tarp is needed, what type of roof? 
After answering these questions, there are a few more important things that you should keep in mind while the professionals are on their way! 
Water Damage Cleanup In North Shore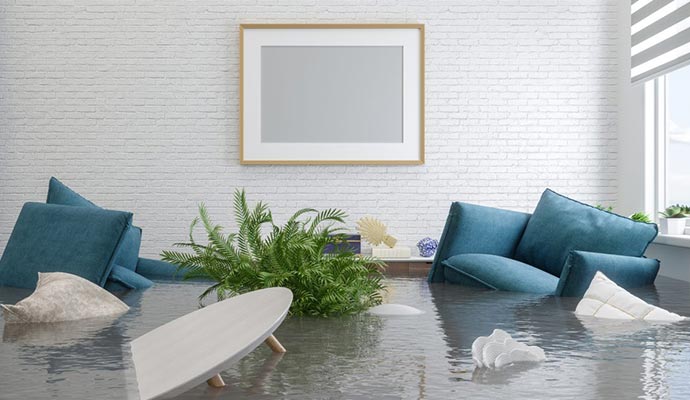 Time is of the essence: It is pretty important that as soon as you find water damage in your home, you contact the professionals immediately. The longer it sits, the more damage it may cause to your property and belongings. It also may be a good idea to clean up some of the water if you can. Leave the big projects for the professionals, but doing a little bit of cleanup will go a long way.
Mold: the word alone makes most people cringe. Keep in mind that the water damage may have started a long time before you caught it. If this is the case, there is a pretty good chance that mold has also invaded your space. However, these trained professionals know and understand how water damage works and how to best take care of this issue. These specialists have state of the art equipment and advanced restoration processes to take care of the secondary problem of mold as quickly as possible. 
Temporarily relocate: Now this does not mean that you need to find a new home or pack up any of your things. However, it might be easier if you remove yourself and your family from the scene. Take necessary belongings that you may need for the allotted time that the professionals suggest and get out of there. You have experienced enough stress through this process. Let the professionals take over and solve it for you! 
Try not to panic! Remember, these are professionals that know how to take care of your property. They will come in and inspect what type of water damage you have experienced and use the proper equipment to clean it up. Depending on the type of water that invaded your home, it may be contaminated. If this is the case, these specialists already have the correct treatment and equipment to take care of it and keep you and your family safe! 
Be proactive as you take the water damage cleanup issues into your own hands! Contact your local professional clean up crew with any questions you may have! You've got this!