Mold Remediation
Don't be fooled into thinking that if you can't SEE mold, you don't have mold. Often moisture damage is much more severe than you realize because mold frequently hides behind household structures. Items like cabinets, paneling, flooring, and baseboards etc. are especially good at hiding mold. Look what we found hiding behind paneling in a house we have recently finished remediation on. Mold is tricky and will hide in areas you don't take a deeper look at.
Our techs found over two FEET of mold behind wood paneling, but to the naked eye, no mold was visible. What you can't see CAN hurt you.  The easiest way to identify a potential mold issue is by starting with Indoor Air Quality (IAQ) testing. If you know you have moisture intrusion and you didn't properly dry out and/or remove the affected areas, IAQ testing is an accurate and affordable place to start.
IAQ Testing
How does Indoor Air Quality Testing work?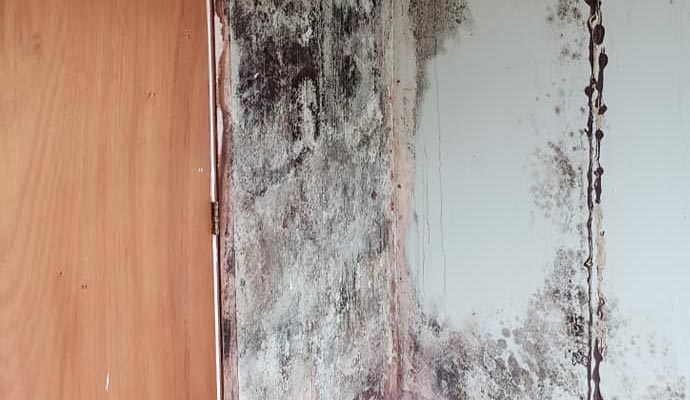 We conduct samples of the indoor air and the outdoor air and we compare the results. If the samples taken indoors are at lower levels than we find outside then this is an indication of acceptable air quality. If the mold levels indoors are higher than what we find outdoors then this is an indication that there is a problem in the property.
IAQ Testing starts at $150 per sample and requires a minimum of 3 samples required. Average testing is somewhere between $450-$750 for the typical 1600-2500 sq ft house. We receive your test results back from a third party lab within 24 hour, which means we will quickly establish a game plan if necessary.
We also can create a scope of work and estimated costs for any remediation and reconstruction which means we are very familiar with working with insurance! United Fire and Water uses Xactimate estimating software which is the same software that most insurance companies use to estimate property losses.
Our IICRC trained water damage restoration technicians are qualified to handle any size water damage restoration job.
UNITED FIRE & WATER DAMAGE of LA, LLC Offers These Services
Water Damage Restoration
Fire & Smoke Damage Restoration
Mold Remediation – LA State Lic #250487
Reconstruction Services – LA State Lic #555937