Water Damage Remediation Equipment
Any broken pipe, cracked window, or overflowed bathtub can lead to some water damage. And Baton Rouge can get battered during hurricane season. A small problem might be solved with a towel, mop or bucket. But a serious problem requires more powerful water removal equipment and the expertise of United Fire & Water.
Depending on the situation at your home, our water damage remediation team might dispatch tools for extraction, dehumidification, air scrubbing and evaporative drying equipment.
Get It Moving
Air movers are an essential tool for water restoration jobs. They offer high-velocity airflow, which leads to faster drying times. Professional grade air blowers are used to improve air circulation to speed up evaporation and reduce drying times.
Axial units blow large amounts of air in a wide space. Centrifugal units are more compact and draw air from different sources toward one spot. Imagine those hard-to-reach areas such as closets, cabinets and crawl spaces. Compact air movers are versatile, lightweight, and relatively quiet.
Commercial air movers may be called different names: industrial air blowers, commercial blower fans, inflatable blowers. They are energy efficient, use minimal power and really improve ventilation. High-powered units are great for removing gases or fumes from an area.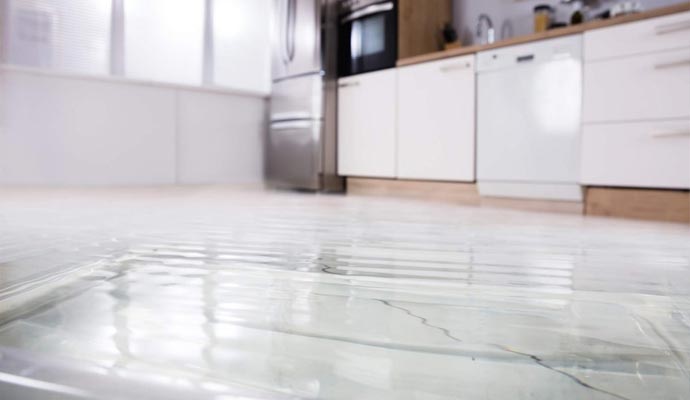 Dry It Out
For success drying materials and reducing mold, the most critical tool when restoring a water damaged space is the dehumidifier. Much more advanced than home units, commercial-grade dehumidifiers have cooled metal fins whose temperature is below the space's dew point temperature. As the fans move the air, the chilled fins condense the moisture. Then the dehumidifier collects the condensed water in a tray or diverts it to a basin. Depending on the model, a commercial dehumidifier can remove up to 300 pints of water in a day. They are an essential tool that saves so much time.
Clean It Up
Air scrubber is a portable air cleaning device that uses air circulation to remove odors, dust, mold spores, gasses, chemicals and other pollutants from the air. Through a three-stage filtration system, this unit cleans contaminants from the surrounding area then releases the air back into the environment. The best kind of air scrubber is a HEPA air scrubber with a filter. Obviously, you'll want the machine to be able to capture all potentially harmful particles in the air. This means that you'll want an effective filtration system which includes a HEPA filter. Air scrubbers are indispensable for air quality improvement, but they can not remove particles from surfaces or walls. The units need to be used as a compomat in a water removal plan. For example, filtration efficiency must be maintained; a poor filtration system equals an ineffective air scrubber.
Measuring Tools
Throughout the drying process, water damage remediation experts will stop by periodically to monitor how the drying is progressing. Hidden moisture is difficult to find; restoration pros have access to pin, pinless and relative humidity measurements. Using a tool with selected attachments allows technicians to measure moisture where it hides within the building envelope.
Most water damage and drying experts use technology to monitor drying with handheld meters and even wireless Internet transmission of data to see drying results in real time.
Can't I Just Use All The Fans In the Home?
While a simple box fan will help move some air, the industrial equipment that United Fire & Water arrives with is much more powerful and efficient. Plus, the technicians will set up the equipment for a total solution. By placing the fans in a logical pattern, the team will decrease drying time. And don't cheat – it is important the equipment is running around the clock. The more hours per day the equipment runs, the less days the equipment will be in your property. Turning off the equipment will only increase our dry time, and the threat of microbial growth and secondary damage.
For Water Damage Remediation Help In Baton Rouge
The bad news is that you don't have a minute to waste. The good news is that our water damage remediation experts are standing by to provide immediate service to North Shore, New Orleans, Lafayette and Baton Rouge. We provide services in:
Content pack out / pack back
Flooring removal and replacement
Containment
OSHA Safety program for Silica dust compliance
Cleaning and decontamination services
Mold remediation
Full service reconstruction
Our water damage remediation experts are certified, licensed and insured. We're also certified to teach the science behind water damage remediation.