Water Damage Restoration in Baton Rouge
The worst has happened and you need water damage restoration. Prior to the catastrophic event that took place, you didn't even know what restoration WAS! Be it a flood, a broken pipe, HVAC accident- we can help!
What is Water Damage Restoration?
Water Damage Restoration is the process of restoring your home to pre damaged condition. It is a variety of steps that include damage removal, dry out and potentially rebuilding.
Materials to be replaced:
Walls
Floors
Shelves
Clothing
Drapery
Ductwork
Heating and air conditioning systems
The Water Damage Restoration Process
The water damage restoration process involves a series of steps.
Categories of Water Damage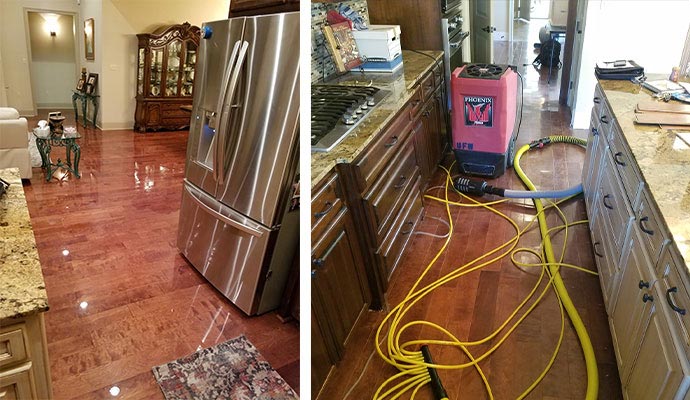 Category 1 - Involves damage from a clean water source such as toilet tanks, broken pipes supplying clean water. Category 1 water damage can degrade into Category 2 or 3 if it sits too long.
Category 2 - Involves damage from "grey water," such as washing machine or dishwasher water containing detergents.
Category 3 -Involves completely unsanitary water that can easily cause illness, disease, or death. Category 3 water comes from sewage, river flooding, and standing water that has begun growing bacteria.
Step 1: Inspection- We will send out a project manager to inspect the damage to your home.
Step 2: Water Removal – We use a truck mounted system to remove water from your home.  Water removal begins as soon as possible to prevent mold and bacteria growth.
Step 3: Dry Out – After all standing water and absorbent surfaces are vacuumed then dry out and dehu begins. This step is important to clear up any remaining moisture after water removal. The drying out process takes many days and up to several weeks to fully complete.
Step 4: Clean up – All personal belongings are cleaned and sanitized to prevent unwanted mold and bacterial growth. Carpeting, clothing, and drapery are given antimicrobial treatments and then returned to you. Air scrubbers are also be used to remove particles and moisture from the air.
Step 5: Restoration – The biggest step in the process is restoration. Restoration involves replacing materials like drywall and insulation. Sometimes this process is as simple as installing a few panels of drywall. Serious cases could require replacing entire walls.
United Fire & Water Damage of La, Llc Offers These Services
Water Damage Restoration
Fire & Smoke Damage Restoration
Mold Remediation – LA State Lic #250487
Reconstruction Services – LA State Lic #555937
United Fire &  Water Damage of LA, LLC services all of Southern Louisiana. We are typically be on site for any restoration related emergency within 2 hours of first notice. 60 minutes in the Greater Baton Rouge area.