What Is The Flooding Forecast For Baton Rouge?
Louisianans fear and respect the annual hurricane season. Southeast Louisiana has years of experience with floods. Data gathered over time shows that Baton Rouge has had flood events 30 days or longer roughly once every 3 or 4 years over the last century. 
And our city is at higher risk for two reasons.
1) Climate change, with an increasing amount of rain, may be overwhelming
2) Baton Rouge's stormwater management infrastructure. As more storm drains overflow from heavy rain last week, more roads and homes in southeastern Baton Rouge face danger. 
Flood risk is increasing for East Baton Rouge Parish, according to Floodfactor.com. As sea levels rise and weather patterns change, flood risks will increase. Approximately 33,148 properties are already at risk in East Baton Rouge Parish. Total annual flood damages in East Baton Rouge Parish are projected to be $9.7M this year (and increasing to $11.2M in 30 years.)
While deeper floods from major events, like hurricanes, are less likely to occur in the future, they will cause greater damage than more shallow flood events, like heavy rains.
Is Water Damage Same As Flood Damage?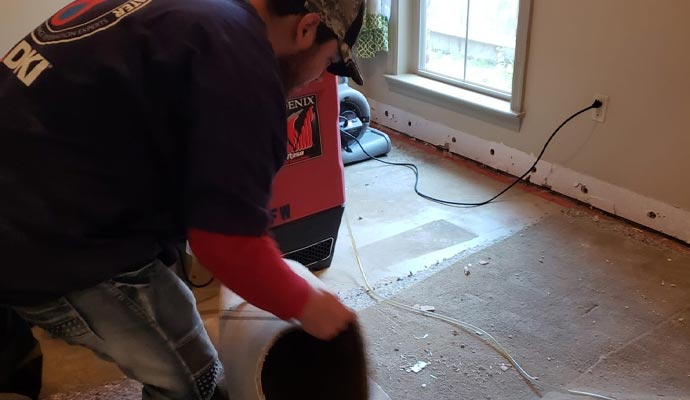 Extra water pouring into your home can ruin the materials, no matter the source of the water but these terms are not interchangeable. However, when it comes to insurance companies and repair coverage, they are different:
Water damage is usually caused by plumbing, such as a backup from a toilet, a flooded air-conditioning unit, or an overflowing washing machine.
Flood damage is usually caused by water originating from a natural disaster, hurricane, or heavy rain event. This can include flash-flooding, sump pump failure, or prolonged roof leaks.
Even if the water appears clean, it might contain chemicals or bacteria that could be hazardous to your health. Floodwater may be mixed with sewage, petroleum or other hazardous chemicals. While most incidents do not cause widespread outbreaks, either ingesting or exposing an open wound to the floodwater increase the risk of diarrheal diseases or infection.
Do I Need Flood Insurance?
Even when your home sits at the top of a hill or is built up several feet off the ground, your Baton Rouge home might be at risk. You may go a lifetime and never experience flood damage. However, any home can flood during extreme weather events. 
Flood insurance is typically easy to shop for and purchase. The less likely a house is to flood, the easier and less costly a flood insurance policy will be. So the cost depends on the location of the property. Learn more about the National Flood Insurance Program at FEMA.gov.
For Water Damage Cleanup in Baton Rouge
When your home gets flooded or a pipe breaks, you don't have a minute to waste. The good news is that our water damage remediation experts are standing by to provide immediate service to North Shore, New Orleans, Lafayette and Baton Rouge.
Content pack out / pack back
Flooring removal and replacement
Containment
OSHA Safety program for Silica dust compliance
Cleaning and decontamination services
Mold remediation 
Full service reconstruction  
Our water damage cleanup experts are certified, licensed and insured. We're also certified to teach the science behind water damage cleanup.